While JVHM, Inc. is principally a software and related services firm, we do have some products that are publicly available. Check out what we have below. If you would like to engage us in developing a product for your organization, just contact us.  We'd be happy to work with you to develop a software product or service that can open new revenue channels.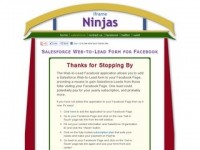 Facebook – Salesforce Web-to-Lead Form
This Facebook Application will allow you to easily drop a Salesforce Web-to-Lead form onto your organization's Facebook Page.  It's a slam dunk with very little effort to have a form customized and up-and-running and sending leads your way!  You will just need your Salesforce Organization ID and a few short strokes later you will be done and can get on with other important business tasks.